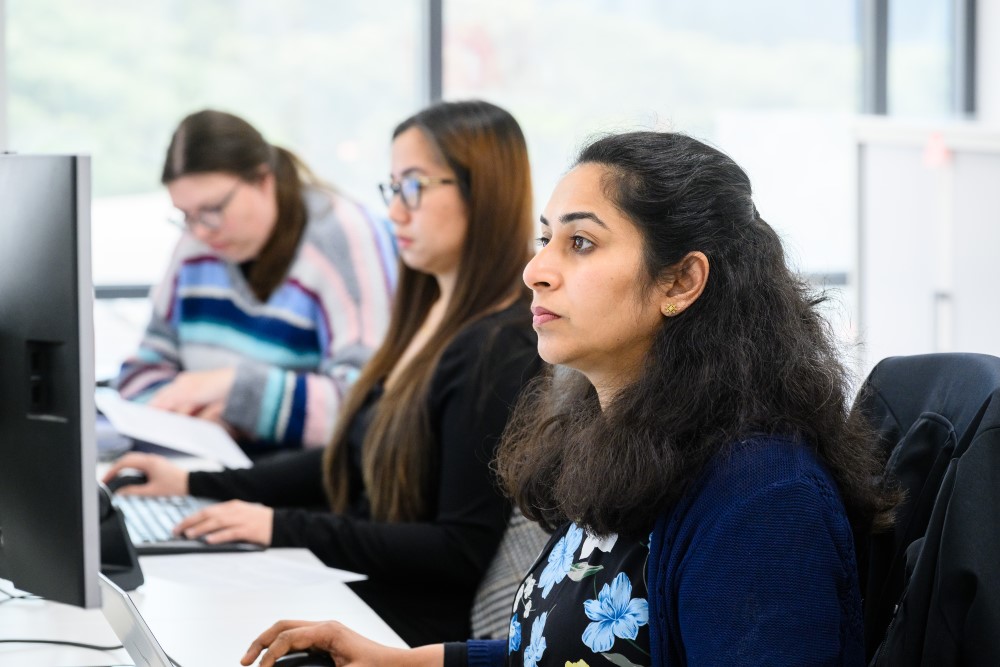 Welcome to Rārangi Utu-a-Mātauranga–Education Payroll. Our team of around 200 people is responsible for delivering the pay to 97,000 teachers and school support staff every fortnight – that's $251 million per pay period and $6.5 billion each year. It's the combination of great people and cutting edge technology that enables us to do this well. Check out why we think it's a great place to work and what roles we have on offer.
About our roles
| Kōrero mō te tūranga >>
Our technology team work with an award-winning application built on a modern kubernetes technology stack that uses the latest azure services. This enables us to have agile-minded, technology-focused roles in software development, business analysis, testing, scrum practice, cloud operations, platform engineering, IT system operations and change design.
Our Oracle-based payroll system is run by our wide range of payroll experts, including payroll, salary assessment, overpayment and ACC advisors, tax and customer service specialists, payrun coordinators and payroll system administrators. All of these positions contribute to the fortnightly payrun being successfully delivered to schools.
Our specialist teams keep EPL at the top of our game and include risk and assurance, people and leadership, finance, communications and engagement and technology assurance.
There are many internal opportunities for growth across the organisation and we pride ourselves on being able to upskill and recruit from within.
Our values
| Ko ngā uara >>
Kia māmā ake ngā mahi |
Make things easier
Mā ā mātou kiritaki, me ngā hoa katoa |
For all our customers and colleagues
Mā te mārama ka pai ake |
Improve through understanding
he whakamahi taunakitanga hei rapu otinga ki ngā matea e huri haere ana |
using evidence to find solutions for changing needs
Ako mā te mahi |
Learn through doing
whakamātauria ngā mea, kia whaitake ō mahi, kia auaha hoki |
try things out, be practical and innovative
Te mahi ngātahi |
Work as a team
te whakatōpū i ō mātou raukaha katoa kia tutuki ai ngā kaupapa |
bringing all our strengths together to make things happen
Me whakaute i te tangata |
Treat everyone with respect
me whai uara, me whakapono ki te tangata, e tipu ai te wairua mahi pai rawa |
value and trust each other to build a great working spirit
Employee benefits
| Ngā painga mō te kaimahi
Jobs
| Tūranga mahi
Payrun Systems Coordinator: applications close 11 December 2023
You will work as part of a small team who monitor and process a fortnightly payrun. You will be responsible for ensuring an accurate and timely payrun, requiring a high attention to detail and the ability to work with numbers. The role also requires the use of custom programs to monitor and verify data and reports.
This opportunity would suit someone interested in the education sector, payroll, or reporting and analysis who is looking to grow their skills and knowledge in this area.
Senior Assurance Advisor: applications close 5 December 2023
You will be supporting the Head of Risk and Assurance to provide assurance to the senior leadership team on the effectiveness of our audit controls. You'll conduct and lead audit reviews, together with internal resources and external providers. You'll be responsible for supporting the review of and the delivery of the approved audit plan.
Senior Risk Management Advisor: applications close 5 December 2023
You will be supporting the Head of Risk and Assurance to embed risk management practices across the organisation. Essential to this role is the ability to work with our leaders in a supportive way to uplift their risk management capability and understanding of their own risks and responsibilities within our risk management framework.
You'll be the main driver of our risk management maturity uplift, supporting the tactical and operational risk management practices and reporting. Ensures EPL's risk management practice is aligned with ISO31000 and meets EPL's desired maturity setting under the GERMAF maturity measurement framework.
Head of Strategy & Architecture Services: applications close 1 December 2023
The Head of Strategy & Architecture Services position has been created to support the General Manager, Service Development to develop the long-term future of this architectural function. This pivotal senior position will lead the development for Technology Strategy, Enterprise Architecture and Roadmaps, Strategic Asset Management and solutions architecture for EPL.
In this role you will also be responsible for providing recommendations for EPLs strategic business and technology direction which will assist clarifying and supporting EPLs role within the government and payroll industry.
Senior Business Analyst: applications close 28 November 2023
The Senior Business Analyst is responsible for analysing, describing and documenting functional requirements and impact assessments. They are the interpreter and subject matter expert for requirements and the interaction with the wider business. They will collaborate with developers, testers and others to ensure the requirements are met. They have a deep awareness of how EPL's business operations work and help stakeholders explore technology possibilities to more effectively execute their roles. As the senior they play a key role in mentoring others and shaping and leading EPL's BA practice.
If you have questions about roles at Education Payroll email myhr@edpay.nz
Recruitment process text version
1 Apply online, adverts have a 2 week timeframe. 2 Applications reviewed and shortlisted, same week as close date. 3 Updated via phone call or email, same week as close date. 4 Successful candidates progress to interview with the team panel, 1 week after close date. 5 Successful interviewees progress to the reference check stage, within 2 days post interview. 6 Successful candidates are made an offer, within 1 week post interview. 7 Employment paperwork will be sent out for you to complete and return, 2 days post making you an offer. 8 Your first day, welcome to EPL! Your first day will be the date agreed between you and the manager. We will endeavour to meet these timeframes. If we can't, we will contact you.